21 May, 2015
Sweet Smoked Baked Beans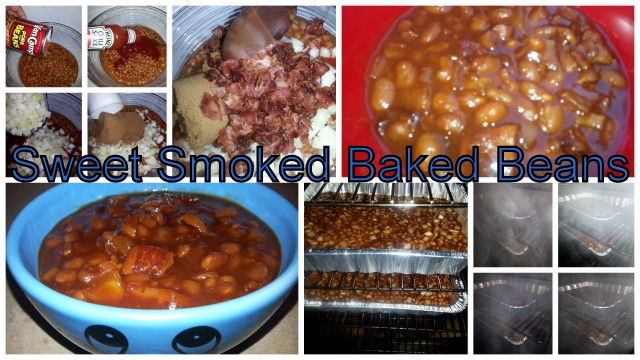 Comments : 2 Posted in :
Dinner
,
Easy/Beginner Recipes
,
Holidays, Events, & Parties
,
Lunch
,
pork
,
Side Dishes
,
Slow Cooker
,
Smoking
on
by :
guyfoodguru

Sweet Smoked Baked Beans
I've been to more than a few BBQ's, parties, and pot-lucks where I show up with these baked beans to see that more than a few other people brought beans too.  Every time that happens I end up going home with an empty container, a boat load of compliments, and a big smile on my face. With a rich smoky smell and a sweet smoky taste, these beans can't be beat. And here's the best part; they're made with only 4 ingredients!!!
I'm going to make mine here in a smoker which is truly the best way, but you can just as easily do these beans in the oven or crockpot if you don't have a smoker.  And as an added bonus, if you're using a smoker, put these under any meat you're also cooking, the juices work like magic on these smoke baked beans.
 Let's Get Started
The first thing I do is cook up a pound of bacon so that it's very crispy but not burnt then crumble it and set it aside.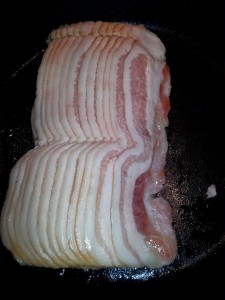 While the bacon is cooking I pour two 28 ounce cans of beans into a large bowl.  All you need is plain pork and beans, the flavor will be added in soon.
Next I add a bottle of chili sauce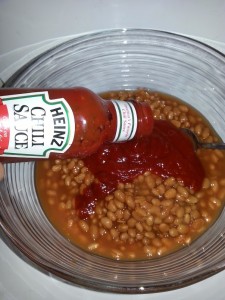 Here I'm putting in a large sweet onion that's been chopped.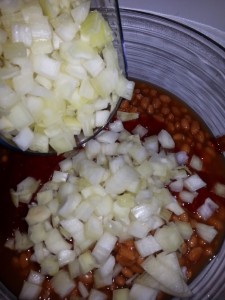 Then I add in two cups of brown sugar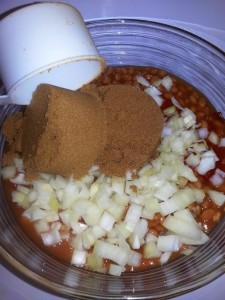 And lastly the and crumbled bacon that we cooked earlier.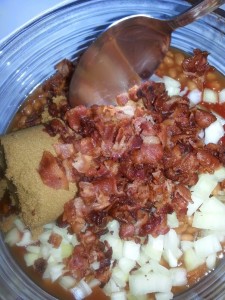 Use a large spoon and thoroughly mix all of the ingredients and pour into a disposable aluminum pan.  If you're going to bake in the oven pour everything into a large casserole pan and if you're using a crock-pot pour everything into your crock.
This is the before picture.  I moved mine into the preheated smoker set at 225 degrees.
I cooked low and slow (temperature and time) at 225 for 2 1/2 to 3 hours applying apple wood smoke about every 30 minutes.  The very best way to make this is to combine with smoking a pork butt.  I put the beans in during the last 3 hours or so of cooking the pork, letting the pork juices drip into the beans.
Stir occasionally.
Slow Cooker and Oven Method and Cheater Smoke
If you have to use an oven, cook at 350 degrees for about an hour and a half.  If you're making these in the slow cooker, cook on low for 6-8 hours.
If you want that smoky taste and smell but you're cooking using the oven or slow cooker, you can add some liquid smoke to taste.  It won't taste nearly as good as cooking in the smoker, but if that's your only option, then you should go for it.
Sweet Smoked Baked Beans
These are a hit every time I serve them and you'll love them too.
[amd-zlrecipe-recipe:33]
2s COMMENTS