18 January, 2015
Maple Sausage Gravy over Biscuits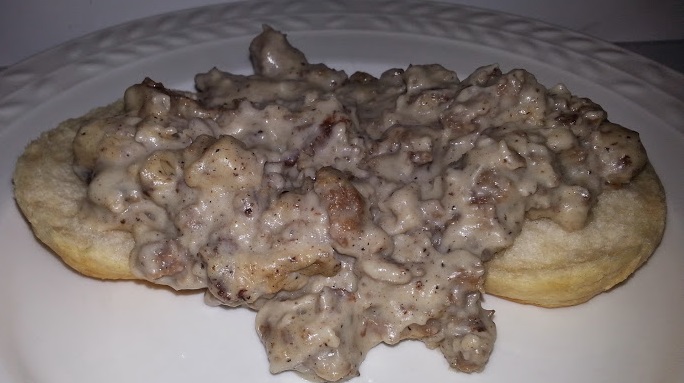 Comments : 12 Posted in :
Breakfast and Brunch
,
Everyday Cooking
,
pork
on
by :
guyfoodguru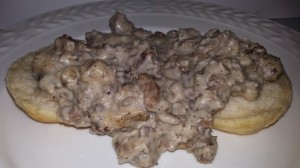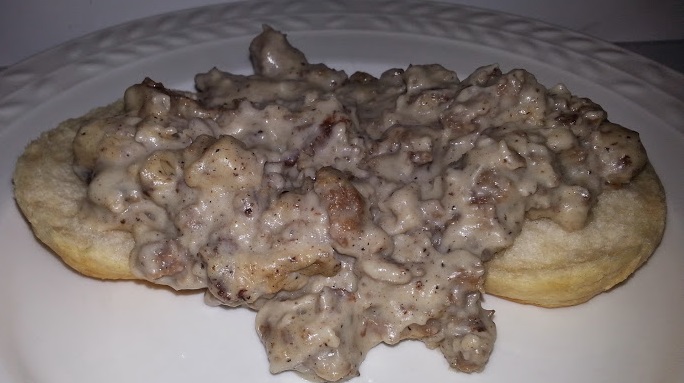 Maple Sausage Gravy
Biscuits and maple sausage gravy, what's not to love?  When you make these the whole house will be filled with the smell of love, and maple sausage.  This sausage gravy is so easy to make and so good that you'll find yourself and you're family wanting it for breakfast all the time.
Let's give credit where credit is due.  Almost all of my recipes are a combination of other recipes adding a little of this or changing a bit of that. This recipe though is so perfect that I didn't touch it at all.  You can find a link to the original recipe below.
I use maple flavored sausage in either the 12 ounce patties or 16 ounce chub depending on what's available or on sale.  If you buy the patties be sure to break them up into small pieces as they're cooking.  Today I went with the 16 ounce because more is always better!
The first thing I'm going to do is fully cook and evenly brown my sausage in a large deep skillet over medium high heat.  You're going to want to use a skillet that's deep enough for 3 cups of milk later on.
After the sausage is cooked  I use a slotted spoon or spatula to remove all the cook sausage and set it aside.  Leave the drippings in the pan. To those drippings I add 3 tablespoons of butter and allow to melt.
Once the butter is melted, I slowly add in 1/4 cup of all purpose flour to which I stir until the mixture becomes smooth.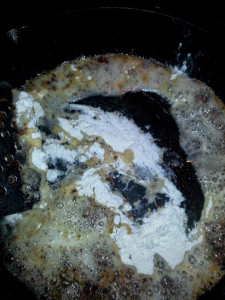 Once the mixture is smooth, we'll reduce the heat to medium and allow to cook until it becomes a nice light brown color.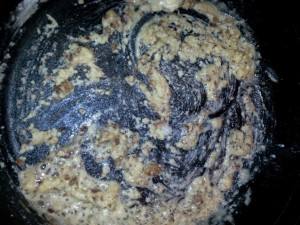 Now is when I turn on my oven for the biscuits. I have a great recipe to make your own that I'll share sometime, but today let's cheat and cook some store bought tube biscuits.
Using a whisk add in the milk. Do this gradually.  I like to add about one half cup of milk at a time.  If you add it all at once the butter mixture will clump and you'll spend more time than what is needed trying to break them up.
After I add this first half cup of milk and whisk until smooth, I repeat with another half cup of milk at a time until all 3 cups are in the gravy and well mixed.
Now is when I put my biscuits in the oven.  I used a spray butter on the tops for a nice golden color when they're done.
Allow to the gravy to cook until it changes from a consistency of milk to more of a gravy stirring occasionally to keep the bottom from burning.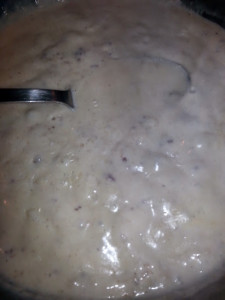 When you can see the bottom of the skillet as you drag a spoon through the gravy now you know it's time to add  the sausage along with salt and pepper to taste.  This gravy is best with a good pepper flavor so more pepper than salt is what I like to do.
Now your gravy is complete.  I put my burner on low and allow to simmer for 12-15 minutes, stirring occasionally, while waiting for the biscuits to finish baking.  Don't be afraid to add more milk if the gravy becomes too thick.
My biscuits fresh from the oven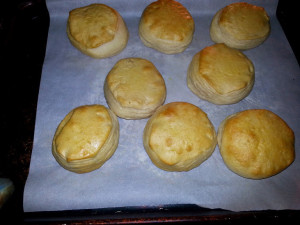 And here's breakfast, maple sausage gravy over biscuits.
[amd-zlrecipe-recipe:15]
Original recipe and credit given to Bill's Sausage Gravy
12s COMMENTS