Jump to recipe

Beef Stroganoff
Looks can be deceiving. How can something that looks so eh taste so good?  I'm about to show you, cause this stuff is great!  This beef stroganoff is chunks of beef cooked tender all day long in a slow cooker with some onions, golden mushroom soup, cream of celery soup and a little pepper. And then, after cooking all day, add in some cream cheese and sour cream and you have a wonderful mix of creamy cheesy beef that is perfect on a bed of egg noodles or rice.
Meat Choices
The first thing you need is the beef.  Wait until you can find what you need on sale and this'll be a really economical meal that'll have plenty of leftovers.  Probably any kind of beef will work but I'm going to focus on three.  First, if your store sells stew meat, that'll work fine.  If stew meat isn't available, then chuck steak like I'm using in the pictures below is a great option. The third choice would be chuck roast which would either require a lot more cutting, or you could ask your butcher if they can slice the roast about 1″ thick which would save time.  Butchers at any grocery store can do this kind of thing for you at no charge.
Let's Get Started
I bought two pounds of chuck steak which was about a half inch thick.  I sliced this into pieces that were about an inch wide and long removing the large pieces of fat as I trimmed.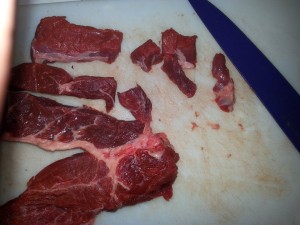 Here is all of my meat cut up and added to the slow cooker.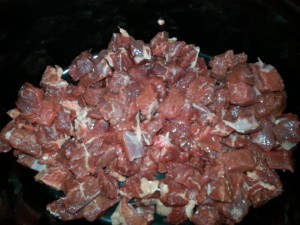 Next I added a cup of chopped onion, a can of golden mushroom soup, and a can of cream of celery soup.
Lastly, before cooking, I sprinkled on 1/4 tablespoon of pepper. (actually, I didn't measure this I just peppered across the top)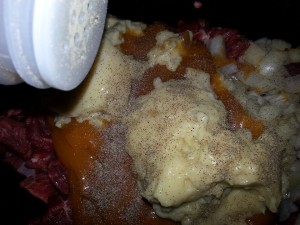 Cook on Low for 8-10 hours
Set your slow cooker to cook on low and let this cook all day until the meat is very tender, about 8-10 hours.  I let mine cook for 9 hours
Adding Cream Cheese and Sour Cream
When there's about 30 minutes remaining to cook I added a package of softened cream cheese, mix it in, and let it melt.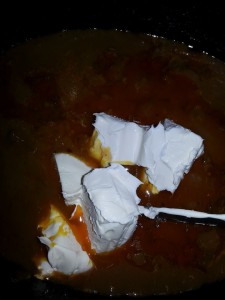 After the cream cheese melted I added a 8oz container of sour cream and mixed well.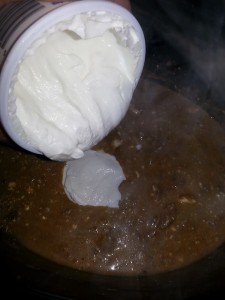 I let the cream cheese and sour cream cook with the beef until my timer went off at the 9 hour mark.  You can see in the picture below that not all of the cream cheese is melted, and that's fine.
And that's it
Serve this creamy cheesy beef stroganoff over egg noodles like I did here or over rice if your prefer. This is sure to become a family favorite even despite it's un-photogenic appearance. Try it and let me know how it came out for you.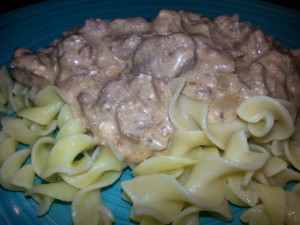 Beef Stroganoff
Ingredients
2 lbs of stew meat, chuck steak, or chuck roast trimmed of excess fat and cut into 1"x1" pieces
1 cup chopped onion
1 can golden mushroom soup
1 can cream of celery soup
1/4 tablespoon black pepper
1 package cream cheese
8oz sour cream
Instructions
Place 1"x1" cut meat into slow cooker
Add the onion and both cans of soup
Sprinkle with pepper
Slow cook for 8-10 hours or until meat is very tender
About 30 minutes before meat is done add cream cheese and allow to melt
After cream cheese is melted add sour cream
Serve over egg noodles or rice.
© 2023 Copyright Guy Food Guru