4 August, 2015
Pierogi Pizza – Mashed Potatoes and Cheese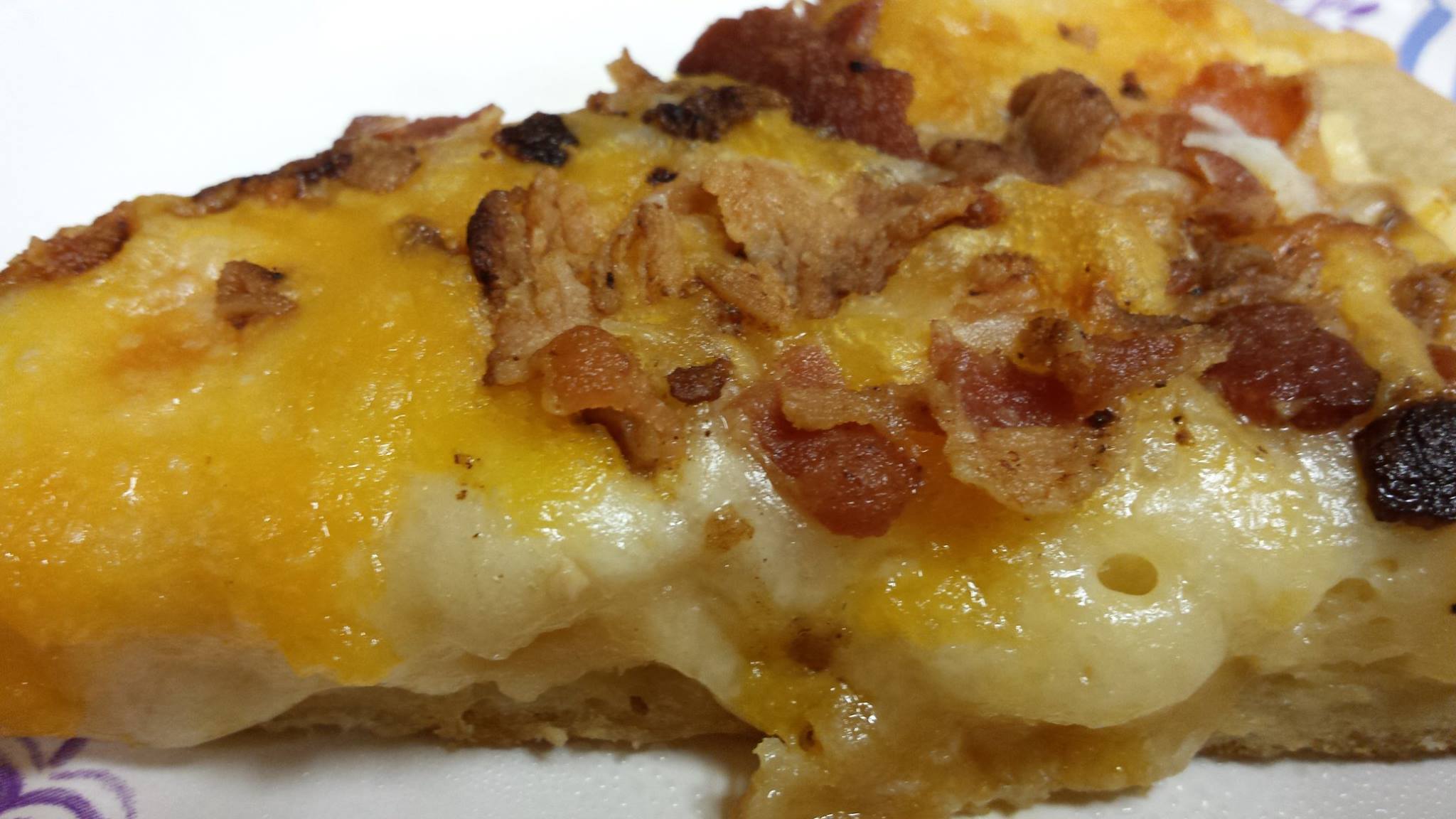 Comments : 9 Posted in :
By Meal
,
Dinner
,
Easy/Beginner Recipes
,
Lunch
,
Main Dishes
,
Meal Course
,
Uncategorized
on
by :
guyfoodguru


What's Pierogi Pizza??
A few weeks ago I was on vacation in Western Pennsylvania for a family reunion.  Other than getting to see a large part of my very large family, I was on a quest. To get the recipe for Pierogi Pizza.  What's pierogi pizza you ask?  Good question.  First, do you know what a pierogi is?  A pierogi is a polish dumpling, made with unleavened dough (no yeast so it won't rise) and they're usually filled with potatoes, potatoes and cheese, etc. I like them best when they're cooked with butter and onions over a skillet until a nice golden brown.  Heaven in your mouth.  Here's what a pierogi looks like.
In Western PA, like a lot of places, different cultures that have been put together for many years and the lines get blurred between one culture and the next.  This recipe is an example of a Polish/Italian mix.
My parents introduced me to pierogi pizza years ago while I was on a visit there.  That pizza shop has since closed so on this recent visit I was determined to find a shop that made pierogi pizza and figure out how to make it at home here in California.
Through a lot of phone calls and searching I found Country Style Pizza, in Bridgeville, PA. I ordered one of their pizzas and had a nice long talk with the great guys there about my quest to find pierogi pizza again like I had years ago.  They told me that they used to own the other pizza store that I was familiar with from before, and were very helpful in telling me how pierogi pizza was made.
I can't stress this enough, this is not Country Style's recipe, it's simply my interpretation of a way that anyone can make this delicious dish at home.
[amd-zlrecipe-recipe:35]
Let's Get Started
The first thing we need to do is saute half a chopped onion and 2 tablespoons of minced garlic in about a tablespoon of olive oil. Let this cook until the onions are translucent and soft then remove from heat and set aside.
Prepare The Crust
I know we could go through the trouble of making crust from scratch but my aim was for a quick and easy recipe that anyone can do whenever they're wanting fresh comfort food.
I bought my crust at the local grocery store, any good quality crust will work fine, such as Bobili 
I liked Mama Mary's because it had a raised edge to help hold the mashed potatoes and toppings.
I placed the crust on a pizza pan but you can use any other pan large enough to hold the crust or even a large piece of cardboard covered in aluminum foil. Just be sure that you choose something strong enough to hold this heavy pie without collapsing.
I melted about a tablespoon of butter and brushed it onto the crust all over including the edge.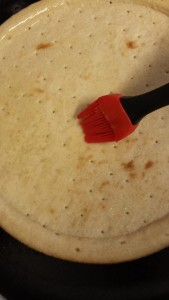 Next I spread 3 cups of prepared mashed potatoes. Of course you can make mashed potatoes from scratch, but like I said before,  in the interest of keeping this so that anyone can make it, I used instant mashed potatoes.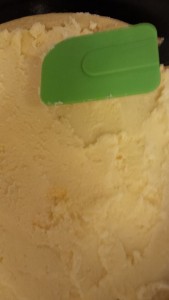 After the potatoes I evenly spread the onions and garlic that I cooked earlier, pour on the remainder of the butter, and then two cups of shredded Colby Jack, Cheddar Jack, or your favorite cheese.
Toppings
Now comes the fun part, the toppings!  What pizza would be complete without topping???  I say none!!! Country Style Restaurant offers as toppings bacon, sauerkraut (to really mix up to cultural background of this dish), or sour cream. In addition to those just about anything that goes with potatoes would be good on top such as shredded cooked chicken, cooked hamburger meat, heck even crumbled leftover meatloaf would work!
This being my first time cooking this experiment I went with 4 slices of crumbed bacon.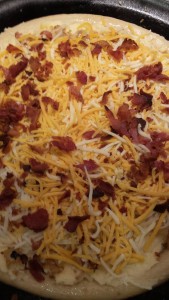 Now I simply popped it into the oven preheated to 425 degrees and allowed the crust to brown and the cheese to melt since everything else was already fully cooked.  This took about 15 minutes, your time may vary, just be sure that the bottom of the crust isn't overdone or burnt and  you'll be fine.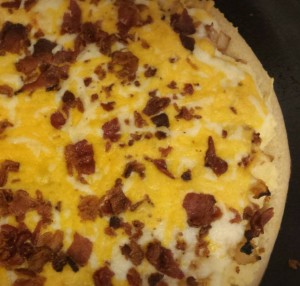 Let the pizza cool just a bit then slice it into serving sized pieces. Just keep in mind that even though the slices may be small they pack a wallop of calories and are so incredibly filling.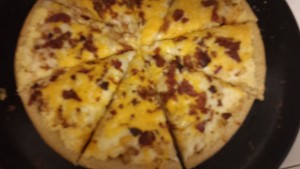 Pierogi Pizza
And that's it, my interpretation of Pierogi Pizza!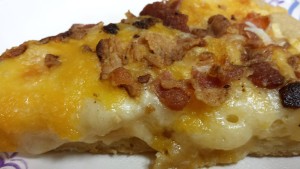 Normally, with all that onion and garlic I would say don't forget the breath mints or you'll have everyone asking what you've been eating.  But in this case, I say skip the mints and let them ask I guarantee your answer will be a real conversation starter.
Enjoy!!
9s COMMENTS