25 March, 2015
Meatloaf With a Twist
Comments : 6 Posted in :
Beef
,
Dinner
,
Easy/Beginner Recipes
,
Everyday Cooking
,
Main Dishes
on
by :
guyfoodguru
Hint: It's the Goldfish

What says home cooking and comfort food more than meatloaf?   I don't know either…
This recipe uses moist ground chuck roast along with the sharpness added with onion soup mix, brown sugar for a little sweetness, Tony Chachere's Creole Seasoning for a bit of bite. And then there's the secret ingredient that sets this meatloaf apart, Goldfish crackers.
[amd-zlrecipe-recipe:27]
 Let's Get Started
Instead of buying hamburger meat at $5.89 a pound, my local store had chuck roast on sale for $3.99lb.  I asked, and they ground a 2 pound roast for me.  This is exactly the same meat I buy for my Pot Roast recipe.  Add this meat to a large bowl and pour in a packet of onion soup mix.  You can see in this picture that they ground the fat up also with the roast, this is good, and will add much to the overall flavor and juiciness.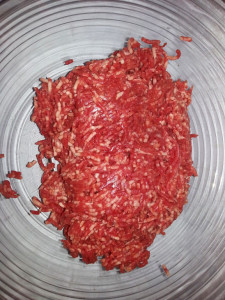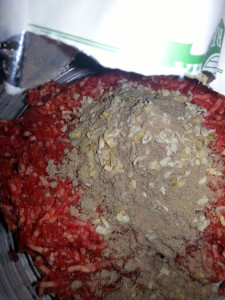 Now in half a cup of packed brown sugar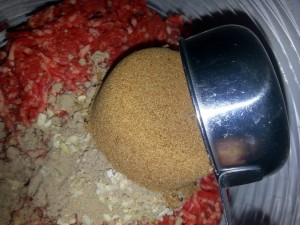 I put a cup and a half of goldfish crackers into my food processor and chop them until they look like the picture below with some larger pieces and some powdered.  You can also put the crackers into a plastic bag and crush them with a rolling pin, rubber mallet, or anything else you have around that you can use to smash crackers.   Also, if you don't have or don't like goldfish you can substitute them with any cheese cracker you have handy.
Place the crushed crackers into the bowl along with the meat and brown sugar.
Add an egg and 3/4 of a cup of milk to the bowl.
Now I add in 1 1/2 teaspoons to 1 tablespoon of Tony Chachere's and one tablespoon of Italian Seasoning
Mix all of these ingredients well with either a big spoon or get in there and use your hands to really get the job done.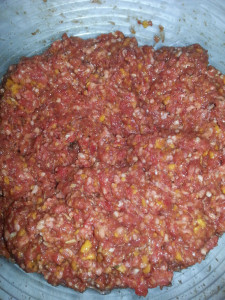 Form the meat into a loaf and place on a cookie sheet lined with parchment paper.  If you don't have parchment paper you can use aluminum foil but be sure to spray it with non-stick first.  I prefer to make my loaf a flatter, more oval shape for nice even cooking and larger slices.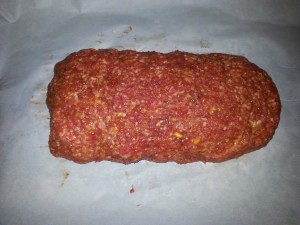 Oven Time
Put this into the oven set at 350 for forty minutes.  After forty minutes, remove from the oven, and cover with ketchup. Place back into a 400 degree oven for twenty more minutes.
Cover it
After the meat is fully cooked (If you check it with a thermometer, you want the meat to be 165 degrees), remove from the oven and cover for 15 minutes.  This step is important and will redistribute the juices.  I used a roasting pan turned upside down to cover mine. If you don't have a pan large enough to cover your meatloaf, you can use aluminum foil to loosely cover it.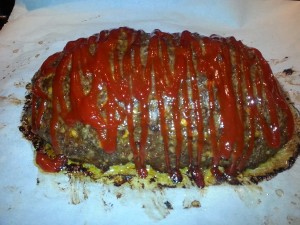 After 15 minutes, slice and serve your homemade meatloaf with your choice of side dishes.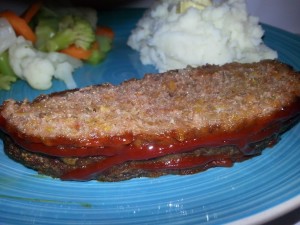 6s COMMENTS