Jump to recipe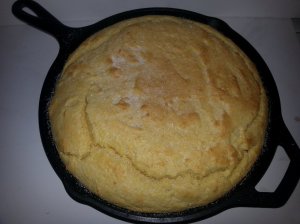 Whether you're in need of some to make your Thanksgiving stuffing, to go with fried chicken, catfish, or a bowl of  chili, or just want some on it's own with butter, honey, or jam.  With this easy way to make cornbread you'll be looking for excuses to make more.
The secret ingredient to  keeping this cornbread moist and delicious is sour cream.
For this recipe I used my 10″ cast iron skillet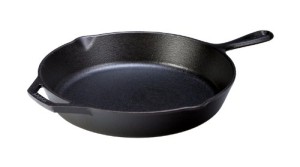 The first thing I'm going to do is add two teaspoons of canola or olive oil to my skillet.  I put the skillet in the oven and set the oven to 425 degrees.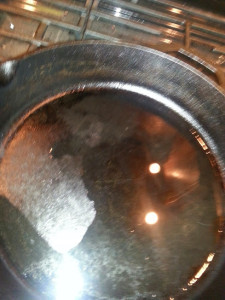 Now, to a large bowl I add 2 cups of  flour, 2 cups of cornmeal, 1/2 cup sugar, and one teaspoon each of baking powder, baking soda, and salt.
Stir to mix this all together.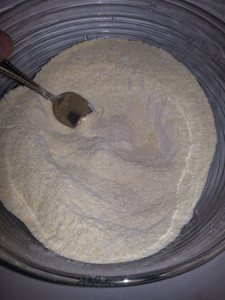 Set this off to the side.  Now in another bowl crack and whip  2 eggs.
Now add 2 cups (16oz container) of sour cream and keep mixing with a fork or whisk.
With that well combined I now added in 2/3 cups of milk and 1/2 cup (one stick) of melted butter.
Now that the wet ingredients are well mixed, I pour them into the bowl with the dry ingredients and mix everything together. I started with a spoon then switched to a spatula to be sure I got all the dry mix on the bottom of the bowl into the batter.
You can see in the picture on the upper right that the batter is as combined as it's going to get, yet there's still some dry parts. So, to fix this I add a little bit (about a Tablespoon at a time) of milk and keep mixing until the mixture is uniform and combined. When it's looking more like the picture below left, pour the batter into the skillet that's been sitting in the oven and spread the mixture evenly (more or less)
You can see in the picture on the bottom right that the mixture sits about an inch or so below the edge of the skillet, that'll change very soon.
Put the skillet back into the oven for 20-25 minutes or until an inserted toothpick comes out clean like this and the top of the cornbread has a nice golden sheen.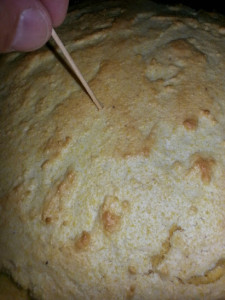 This next step is optional but to add a bit of sweetness sprinkle sparingly as soon as the skillet comes out of the oven with sugar.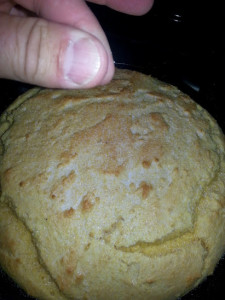 And now, you've made a moist and sweet cornbread that will have
Skillet Cornbread

Ingredients

Ingredients
2 cups cornmeal
2 cups all purpose flour
1/2 cup sugar
1 teaspoon baking powder
1 teaspoon baking soda
1 teaspoon salt
2 eggs
2 cups (16oz) sour cream
2/3 cup milk
1/2 cup (1 stick) butter, melted
2 teaspoons canola or olive oil, for the skillet
extra milk to ensure mixture is uniform
*optional - sugar for dusting

Instructions

Add 2 teaspoons of oil to your skillet then set your oven to 425°F. Place the skillet in the oven while getting the mixture ready.
In a large bowl mix the cornmeal, flour, sugar, baking powder, baking soda, and salt.
In a different bowl beat the eggs, sour cream, milk, and melted butter.
Pour the wet ingredients in the bowl with the dry ingredients and mix until well blended. Additional mix may be used but only to wet the dry ingredients, the batter should remain thick.
Use an oven mitt to remove skillet from oven. Pour batter into skillet and smooth with spatula
Bake for 20-25 minutes or until toothpick inserted into the bread comes out clean.
Remove from oven and dust over the bread with a small amount of sugar (optional)
Allow to cool at least 20 minutes however even more time cooling will ensure your slices come out complete and don't break apart.

© 2022 Copyright Guy Food Guru