Jump to recipe

Baked Ziti
I was watching a science fiction movie recently and starting thinking of reasons why aliens would want to travel across the cosmos to visit us. The common theme in the movies is that they come here for to wipe us out and take over.  I have a different theory, they come for the food!  A visit to Earth is probably much like the 30 mile detour that we take while on a road trip to some restaurant we once saw on TV.  I mean seriously, what are the chances that other worlds have perfected cooking and have such flavorful choices like we have here on Earth.  Anyone with funding to help me out just let me know cause I'm thinking I should open a restaurant for space travelers.  In the meantime, here's a great example of homemade cooking with my version of baked ziti.
My baked ziti reminds me of a quick, easy, and cheap version of lasagna.  Ziti pasta is similar to elbow macaroni that you might use for mac-n-cheese but much larger.  You could also get away with making this recipe using Penne pasta with comparable results.  To make this we'll start with ziti pasta cooked al dente. Then we'll layer half of the pasta, add provolone cheese, sour cream and herbs, spaghetti with meat sauce, more pasta, more meat sauce, and top the whole thing with mozzarella cheese before putting it in the oven to bake.  What comes out is pure deliciousness and worthy of a space travel detour.   Luckily for us, we don't have to travel too far at all, we just have to get into the kitchen and cook.
Baked Ziti – GuyFoodGuru Style
Ingredients
1 pound lean ground meat
1 onion - chopped
2 24ounce cans - spaghetti sauce
1 pound box Ziti pasta
salt
butter
12 ounce package sliced provolone cheese
12 ounces (1 1/2 cups) sour cream
1 tablespoon basil
1 tablespoon oregano
2 cup package shredded mozzarella cheese
Instructions
Cook the ground meat and chopped onion in a large saucepan over medium heat until the meat is browned.
Add two cans of spaghetti sauce to the meat and onions,reduce heat to low, and allow to simmer for 15 minutes.
Add salt to a large pot of boiling water. Cook the ziti pasta until cooked but still firm (al dente) about 8 minutes. Strain all of the water out of the pasta then set aside.
Coat a large casserole dish with butter - I used a 10x15" dish
layer half of the cooked pasta in the casserole dish
place the sliced provolone cheese evenly onto the pasta
To 1 1/2 cups of sour cream add one tablespoon each of basil and oregano, mix well
spread the sour cream over the provolone cheese
Now pour half of the spaghetti sauce onto the sour cream
The next layer is the remainder of the ziti pasta and then the rest of the spaghetti sauce.
Lastly spread 2 cups of shredded mozzarella cheese and bake at 350 degrees for 30 minutes.
After it comes out of the oven lightly cover the casserole dish and allow to rest for 30 minutes to firm up.
WARNING: if you skip this step the pasta, cheese, and sauce will run when you serve it.
After 30 minutes slice and serve - it'll still be hot!
© 2023 Copyright Guy Food Guru
Let's get cooking
The Sauce
I started by putting a pound of lean ground beef and a chopped onion in a 8qt sauce pan and browning the meat over medium heat. After the meat was brown and the onions soft I added in two 24ounce cans of spaghetti sauce and allowed to simmer on low for fifteen minutes while I was preparing the pasta.  Stir this occasionally.
The Pasta
I added a couple tablespoons of kosher salt to a large pot of boiling water then added a pound of ziti pasta which I cooked for 8 minutes.  I wanted the pasta to be cooked but firm, which is al dente. After they're cooked strain all of the water out of the pasta and set aside.

 Building the Layers
I coated a 10×15″ casserole dish with butter, then poured in half of the al dente cooked pasta
Next I layered on a 12ounce package of slice provolone cheese.
To a cup and a half of sour cream I added a tablespoon each of basil and oregano and mixed thoroughly.
I poured all of this sour cream on top of the provolone cheese and spread it evenly using a rubber spatula.
My next step was to add half of the spaghetti meat sauce, the rest of the pasta, then the remainder of the meat sauce.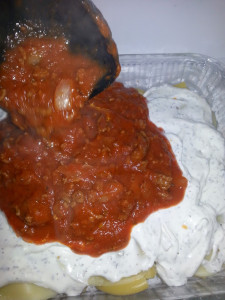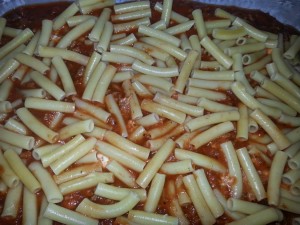 Lastly I added 2 cups of mozzarella cheese and baked at 350 degrees for 30 minutes.
Cool down
After you remove the dish from the oven cover loosely with aluminum foil or a larger pan upside down and allow to sit for 30 minutes.  This will insure than when you cut into the baked ziti you'll get a nice even piece that will hold together.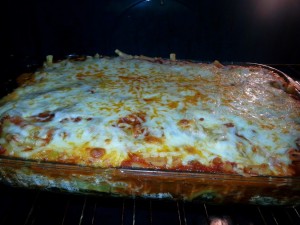 Baked Ziti
Give this wonderful baked ziti a try the next time you're feeding guests that are from this world or beyond.