Jump to recipe
Chicken and Dumplings

I can't be the only one that loves walking into the house after a long day at work only to be greeted by the smell of dinner already done.
This recipe for chicken and dumplings is very easy and quick to put together in the morning before you leave for work and it'll be ready and waiting for you when you get home.  All you'll need to do is add the biscuit dough and allow to fully cook an additional 30-45minutes.
Let's get started
Place boneless/skinless chicken breasts in the bottom of the slow cooker. You can use either fresh or frozen.  If you're using frozen like I am here, there's no need to defrost it.  Next add 2 Tablespoons of butter
Now I add a small diced onion and a bag of frozen mixed vegetables (optional)
And then, add a can each of cream of chicken and cream of mushroom soup and about 3/4 to 1 cup of water.  If you find that you added too much water you can add a little flour later to help thicken things up.
I added enough salt and pepper to cover the top, and that's it.  We're ready to cook.  I cooked on low for 8 hours while I was out and about.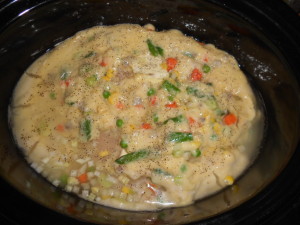 Adding the biscuit dough
After 8 hours I took the cover off, added broken up pieces of ready to make biscuits and cooked for an additional 30-45min until the dough is fully cooked
the dough will rise as it cooks and you'll come back to something that looks like this.  The "dumplings" are light and fluffy.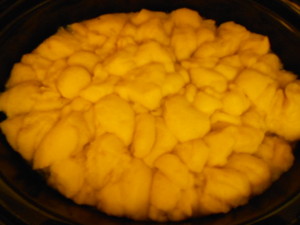 Serve with a side of rice or as I did with some lightly buttered egg noodles and that's it, easy chicken and dumplings.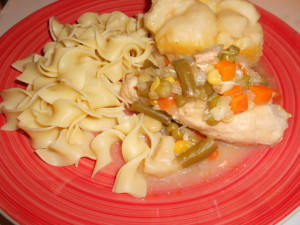 Slow Cooker Chicken and Dumplings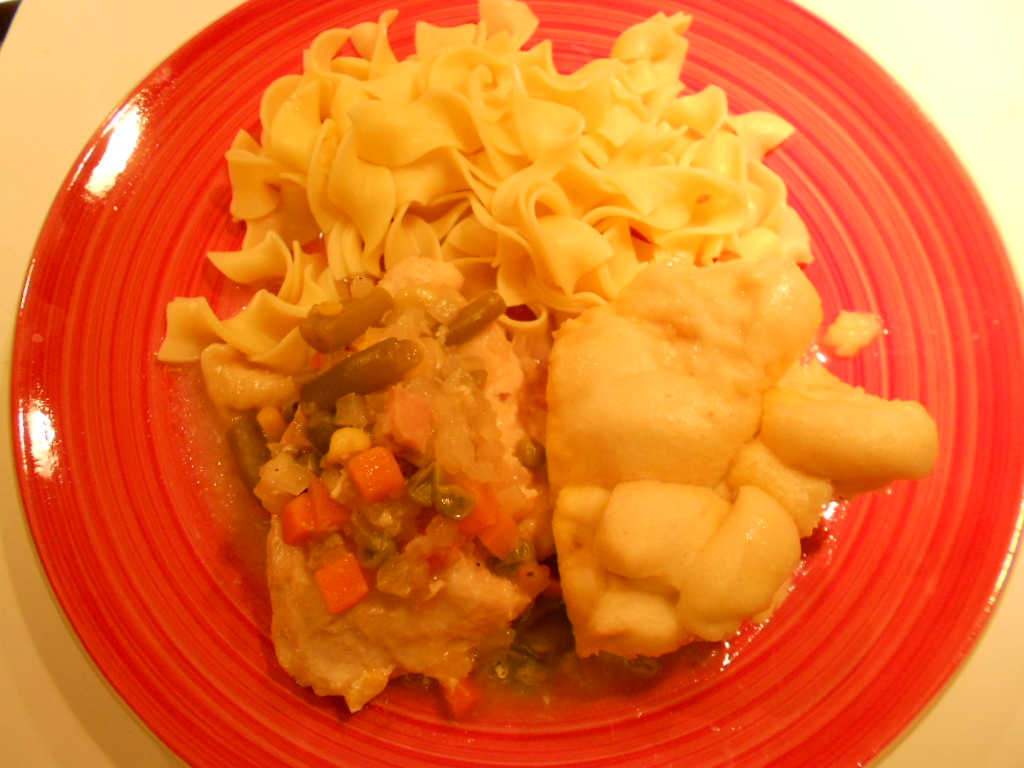 Ingredients
4-6 boneless/skinless chicken breasts - Frozen is fine
2 Tablespoons butter
1 onion - fine dice
1 can cream of chicken soup
1 can cream of mushroom soup
1 bag of frozen mixed vegetables - optional
2 7 1/2 oz tubes of refrigerated biscuit dough
Instructions
Place the chicken in the bottom of a slow cooker
Add butter, finely diced onion, and a can each of cream of chicken and cream of mushroom soup
Add the bag of frozen vegetables.
Add about 3/4-1 cup of water
Cook on low for 8 hours
About 45 minutes before you're ready to serve add biscuit dough in small pieces, cover and let cook until fully cooked.
Serve with rice or egg noodles
© 2023 Copyright Guy Food Guru