Jump to recipe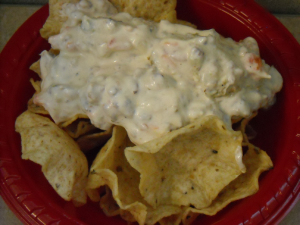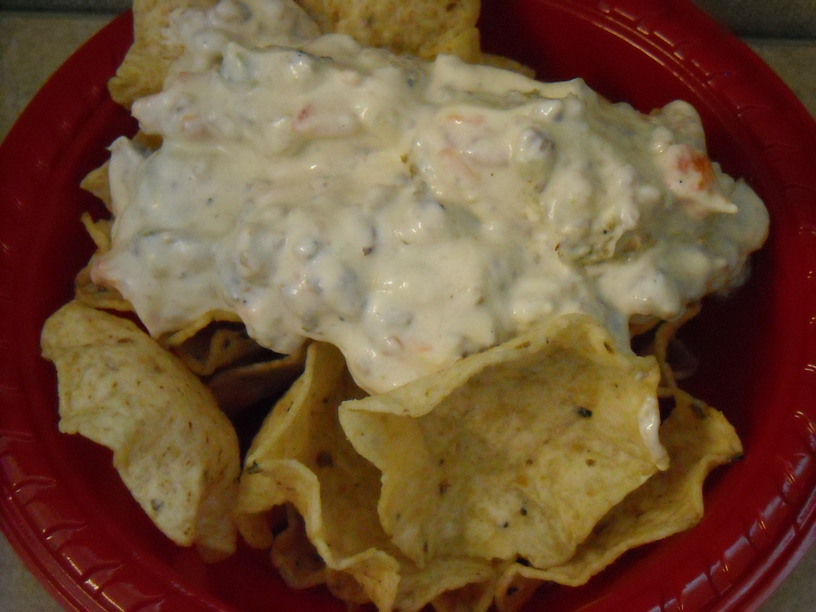 Having a party or a potluck and want to be the talk of the day?  This is just the thing.  This sausage cream cheese dip is served warm and even doubling this recipe never seems to be enough.  This uses hot sausage, sour cream, cream cheese, and a host of peppers and vegetables!  Make this easy recipe the day before your event then simply put it in a slow cooker and keep on low or warm.  Serve with chips or crackers and you're guaranteed to run out.
I wanted to give full credit to this recipe to my boss. He makes it every time we had a potluck and was always happy to share the recipe. I would just call it Ty's Sausage Dip.  A few days ago I got with him and told him that I was going blog and wanted his permission. He said it was ok, and emailed me a copy of the recipe.  In casual conversation with someone else I mentioned how I was making some and was planning to blog it when she showed me a copy of virtually the same recipe from a chain email sent in 2007.  So we may never know who originated this recipe but many people give their thanks!
So let's get started on your having the most craved dish at your party.  First, about an hour before you start with the dip allow the cream cheese to come to room temperature.
Prep Work
While the cream cheese is out and warming to room temperature, this is a great time to chop and dice the onion, red bell pepper, jalapenos, and tomato.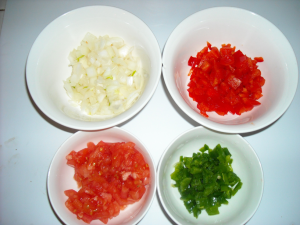 Stove-Top Cooking
Now that we're ready to cook we put a pound of hot sausage into a skillet over medium heat. To this we add the onions
On top of the onions we add the red bell pepper and jalapenos.
Allow to cook while stirring and breaking up the sausage until the sausage is brown.  Turn the heat down to low and let cook further until all of the vegetables are tender.
Put the softened cream cheese into a large bowl (hint: if the cream cheese is still hard put in the microwave for no more than 20 seconds at a time until it's soft but not melted)
Bringing it all together
Pour the sausage/vegetable mixture ontop of the cream cheese and stir to melt the cheese and combine evenly.
Next, add the can of green chilies, the diced tomatoes, and the sour cream.
Mix this all together until thoroughly combined.  At this point you could put it into small bowls to microwave and serve, or you could put it in a slow cooker on low/warm.  The best results though are when you put this in the refrigerator overnight to let the flavors meld and serve in a slow cooker or small bowls the next day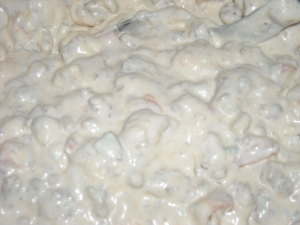 Delicious Sausage Cream Cheese Dip
This sausage cream cheese dip is guaranteed to be the hit of any event. Serve with crackers or as seen here with scoop tortilla chips
Sausage and Cream Cheese Dip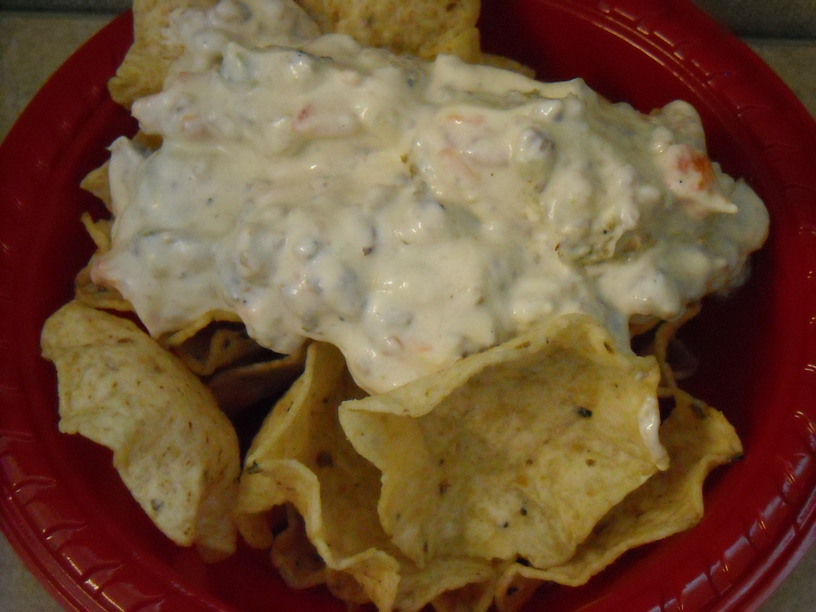 Ingredients
1 Jimmy Deans "hot" Sausage
1/2 Yellow Onion, diced
1/2 Red Bell Pepper, diced
1-2 Small Jalapenos, diced – remove the seeds. Or 1/2 can diced jalapenos
1 Small Can Green Chilies, diced
1 Pint Sour Cream
2 8 oz Cream Cheese
1 Small Tomato, diced
Instructions
Keep the cream cheese at room temperature.
Brown the sausage along with the onions, red peppers and jalapenos. Don't drain the fat.
In a big bowl, stir in the warm sausage mixture with the cream cheese.
Add green chilies, sour cream and tomato.
Mix it all together.
Keep it warm in a crock pot or microwave it in small bowls.
© 2023 Copyright Guy Food Guru