Jump to recipe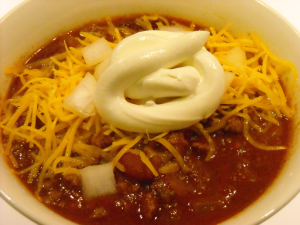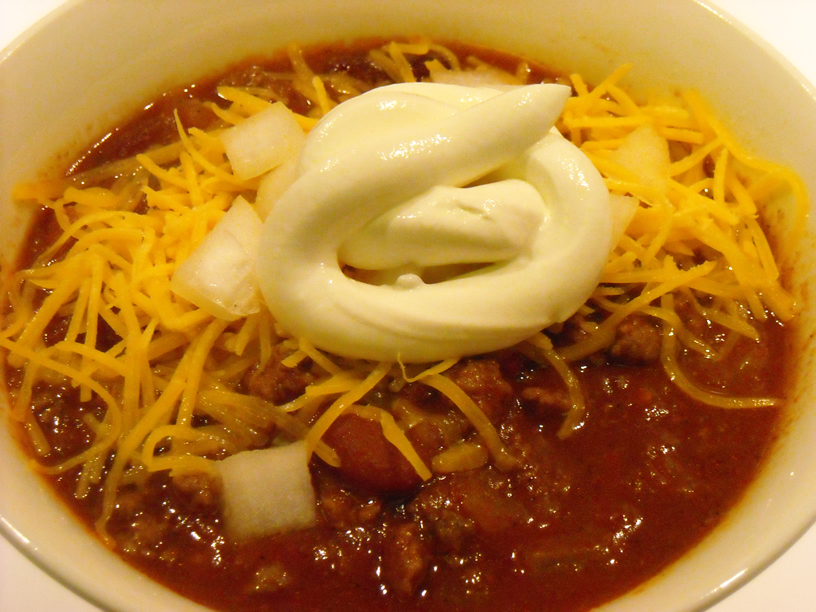 Family Friendly Chili
Everyone and their sister's neighbor have a chili recipe.  I have more than a few myself. This one however is special for two reasons, first for how easy it is to make (I had this in the slow cooker and cooking in 14 minutes.)   And secondly this is a great family friendly chili that's not too hot, nice and thick with powerful flavors that's sure to please the entire family.
I'll be making this recipe in the slow cooker but this amazing family friendly chili can also be cooked on the stovetop if you're in a hurry. Or, when camping, I cook this in a dutch oven and bake cornbread right ontop.   Talk about good eating while in the boondocks!!  Here's a picture of the damage that 4 adults managed to do with dutch oven cornbread chili last fall at Pismo Beach.  There's still enough for a few more people!  At the bottom I give directions for all three methods for making this yummy family friendly chili recipe.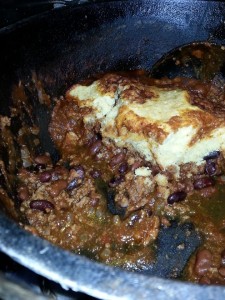 Let's Get Started
I start making this one by browning 2 pounds of lean hamburger meat along with 1/2 of a chopped onion.
As the meat is cooking I sprinkle with a generous amount of garlic salt and pepper.
Stir ofen and use the spatula to break the meat into smaller pieces
Until it's evenly browned and looks like this.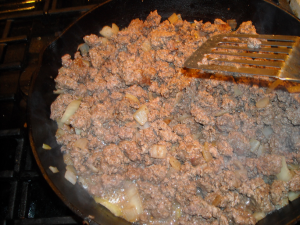 Putting it all Together
Now using a slotted spatula or spoon I transfer the cooked meat and onions to the bottom of my slow cooker.  You want to drain away as much of the grease and oil as you can.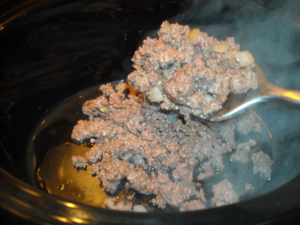 Onto the meat I pour a can of tomato sauce
8 ounces of thick salsa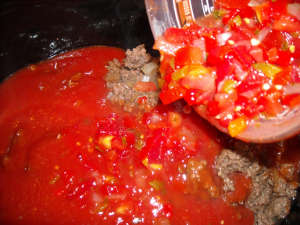 And a can each of light and dark red kidney beans.  Be sure to drain the beans of any liquid before adding to the chili
Lastly I use a foil pack of McCormicks Chili Seasoning Mix and gently stir to combine all of the ingredients.
Allow to Slow Cook
Put the slow cooker on low and allow to cook for at least 4 hours. I've cooked it for as long as 10 hours while I was away and find that the longer it cooks the more flavorful it gets.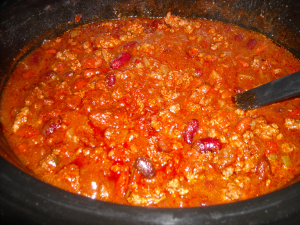 And that's it, such a hearty thick chili that's perfect for a rainy day, a party, even over chili dogs.  Serve with toppings such as shredded cheese, diced onions, and sour cream. Or, go for the trifecta like I have here with all three.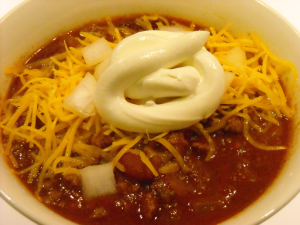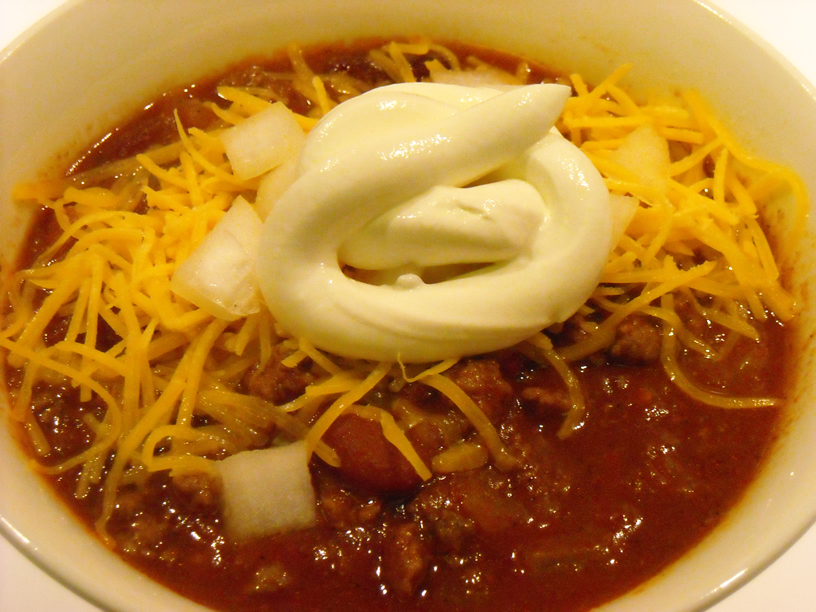 Family Friendly Chili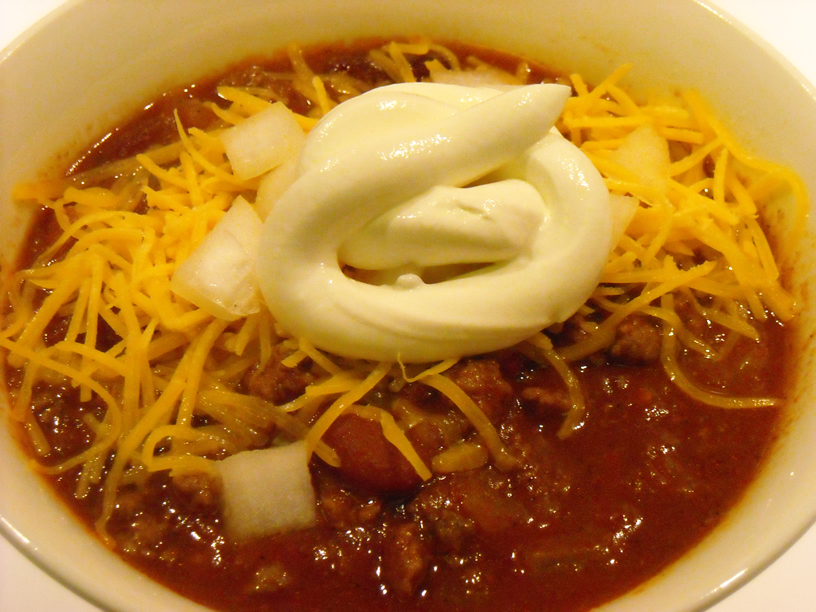 Ingredients
2 pounds ground beef
1/2 onion, chopped
garlic salt
black pepper
2 1/2 cups tomato sauce - I use one 29 ounce can
8 ounce thick salsa - medium or hot
1 can light red kidney beans
1 can dark red kidney beans
1 package McCormicks Chili Seasoning Mix
Instructions
On the Stovetop
In a large skillet, combine the ground beef and the onion. Add garlic salt and black pepper to taste and cook over medium heat until the meat is browned.
Use a slotted spoon to strain the oil/grease off of the meat as you transfer it to a large pot.
Add the tomato sauce, salsa, kidney beans, and chili seasoning mix. Mix well, reduce heat to low and simmer for at least an hour.
In a Slow Cooker
First cook the ground beef and onions in a skillet as described above on the stove. Drain and place into slow cooker. Add the rest of the ingredients and cook on low for about at least 4 hours. There is no harm in cooking it for longer and cooking the chili this way really melds the flavors together.
In a Dutch Oven
Place the Dutch oven over charcoal. Cook the meat and onion as you would in a skillet on the stove.
Add the other ingredients, place the cover on the dutch oven and move the majority of coals from underneath the oven to the lid (about 8 coals under and 16 above).
Let cook thoroughly, then it's time to add the special secret weapon.
In a separate bowl mix together a box of cornbread mix following the box instructions.
Remove lid of dutch oven and slowly pour the mixture over the chili. Return the lid and let the cornbread cook.
There's no way to set a time on it but you'll know when it's done when the cornbread springs back when touched.
© 2023 Copyright Guy Food Guru