Jump to recipe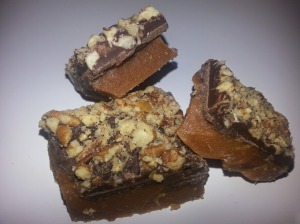 English Toffee!!
This is the ultimate candy. It's got it all; sweet, salty, crunchiness, and melt in your mouth goodness.
I have to apologize right up front for making you read so much. Candy making is a pretty particular kindof thing, just one thing can be off and the whole thing will fall apart on you. Don't let that scare you off, this is a really easy recipe.
This is my world famous English Toffee, I stress "my world".  The first time I made it as an experiment and brought a small container to work for my closest friends to try and give me their honest opinion. They loved it so much that the next thing I knew I was taking orders for the holidays. I went home that night and made 2 batches. I didn't have anything professional enough to put it all in, but I managed to find plastic deli style containers so I went with that. The next day I come in armed with nine 8oz containers, another that was opened for samples, and 2 stashed at home for personal use (medicinal purposes only). I sold those nine containers in about 20 minutes and had folks asking for more.
And now, as my Christmas gift to you, I'm gonna share this recipe.
First, let's talk hardware. You'll need a medium sized saucepan. The important part about the saucepan is to use or buy one with a heavy/thick bottom. There's a pretty good chance of burning the toffee cooking at the bottom of the pan. Having a good heavy bottom pan will help a lot to redistribute the heat. If the bottom of your pan is covered in burnt toffee keep in mind that you're either rushing the cooking process with too high of heat, or, you need a better pan. No worries though, even the most burnt pan comes clean quickly with hot water and the gentle scrapping with the back edge of a spoon.
Next, you'll need a candy thermometer. Either a bulb or digital works just fine.  Clicking on either of these pictures will take you to Amazon so you can get what you need 🙂
You'll need to have some basic kitchen utensils on hand including a metal stir spoon, a high heat rubber spatula, and either a long knife or a scraper/chopper like this.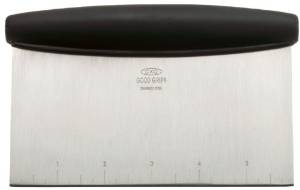 Lastly, you'll need a cookie sheet and some parchment paper. You can get by with using aluminum foil, but it may stick. Don't use wax paper, it can't stand up to the heat. The cookie sheet can be 9×13, 10×14 or there abouts. Try not to use a cookie sheet wider than the parchment paper and you'll be fine.
Time for an intermission. I warned you that I had a lot to say. Go get a cup of coffee, a drink, it a snack and come on back and enjoy this.
Ok you back? Feel better? Let's press on, we're almost in the kitchen.
Now the software, the ingredients. You'll be happy to know there's only four ingredients in this English Toffee, so this will be easy.  You need one pound of good quality butter. Please, please, please don't skimp here. This picture is a batch of toffee that I made using cheap butter. I poured it onto the parchment paper, I made that hole with the back of my spoon, and it filled it with an oily buttery something that I don't even know what it is.  Lesson learned I hope!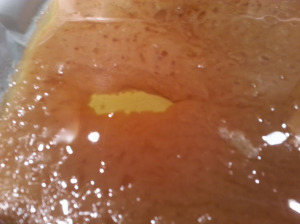 We'll need 2 cups of standard everyday white sugar. If you buy unsalted butter add 1/4 teaspoon of salt.  If you buy salted butter you can skip this step if you'd like.  Now we need 2 cups, 16 oz, or one pound (hint, they're all the same thing) of miniature semi-sweet chocolate chips. You might get away with using full size chocolate chips, but don't risk it unless that's all you can find. I wouldn't recommend trying dark chocolate or milk chocolate either until you're a toffee making ninja master. The different chocolates will work fine, but, change the delicate balance that's in the original. Lastly, I use 2 cups (1/2 pound) of finely chopped pecans.  I buy my pecans medium chopped then run them through the food processor.
Alrighty then, let's cook. I know it's about time, shut up already and cook something.
Our first step is to place the butter and sugar and salt in the pan and melt over low heat stirring constantly, clockwise if you live in the northern hemisphere. If you're not sure, ask someone.
The goal here is to keep the sugar from burning, while allowing the butter to melt. Don't rush this step and keep stirring, clockwise!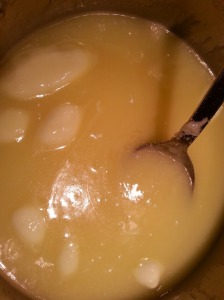 After the butter is fully melted, turn the heat up slightly if you wish but no higher than medium low. Attach your candy thermometer to the side of the pot and allow the temperature to come up gradually, stirring occasionally. Be sure, when you do stir, to get around the thermometer and the bottom of the pan.  Also, you'll find that the mixture will start to stick to the spoon. I use the rubber spatula to clean the spoon after each stir.  Otherwise you'll end up with more toffee on the spoon than in the pan.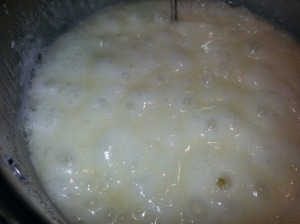 You'll see the butter/sugar mixture change and transform as the temperature slowly rises.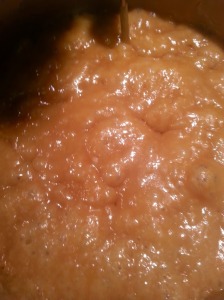 While allowing the mixture to come up to temp, cover your cookie sheet with enough parchment paper that there's extra hanging over on all sides. Press down on the corners but don't worry if it pops back up again.
Back to the pot on the stove.  You're still stirring occasionally, right?   Clockwise?  Good Job!!   You'll notice each time you stir that you're be bringing up a darker color from the bottom. That's what we want.
When the temperature reaches 285 degrees we're ready to really make some toffee.  Remove from the heat, give one last stir and then pour onto the parchment paper.
After I empty the pan onto the parchment paper I use the back of the spoon to spread the toffee as well as I can. You don't have to go all the way to the edge. What's more important, is that it's spread to a uniform thickness.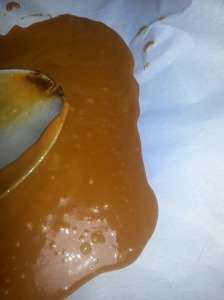 This is what mine looked like after I spread it as best as I could.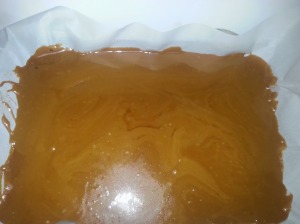 Next, even spread all of the chocolate chips across the hot toffee and allow to sit a few minutes.  Here I was using the rubber spatula to make sure the chip were even spread before they started melting.
As the chips melt and become softer, use the rubber spatula to spread the chocolate until it's smooth.
Next, I poured the two cups of finely chopped pecans across the chocolate as evenly as I could manage.
 We're almost there.. Just about done!!!   Now I take a large freezer bag and lay it across the pecans.  I reached into the bag and pressed the nuts down into the chocolate.  Just a firm press is all that you need.  You'll see some chocolate working it's way to the top, that's perfect.
That's it.  You've made English Toffee!   I covered the cookie sheet with more parchment paper and allowed to chill in the refrigerator until completely cool. Overnight is good too.  When it's completely cool, remove from the refrigerator and lift the paper to remove from the pan.  Place paper and toffee on a good working surface.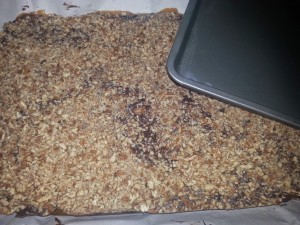 Now, it's time to break thing into bite size pieces.  I took a long knife and cut my toffee in half along the short side.  To do this, I placed the knife where I wanted it and either press down hard or give it a whack with something heavy.  I've even used a rubber hammer before so don't be shy.  I did the same thing along the whole length to make about 1″ wide strips.
Now using my pastry scraper/chopper I did the same thing the other direction.  I only cut 2 strips at a time. You're aiming to get small mouthsize pieces. Unfortunately the closer you cut to the edge, the more likely you are to break off and separate the toffee from the chocolate, so use you're own judgment as to size based on how brittle your toffee came out.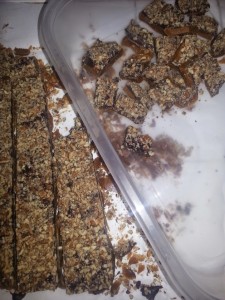 And save all of the broken pieces!!!   These are great for sprinkling across a bowl of ice cream!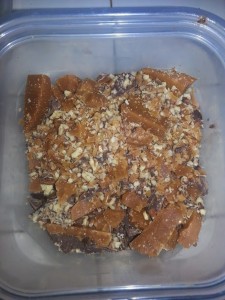 That's it. English Toffee. You can buy English Toffee at the store for about $1 an ounce.  Today I showed you how to make over 3 pounds of toffee for about $7.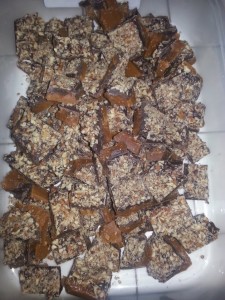 English Toffee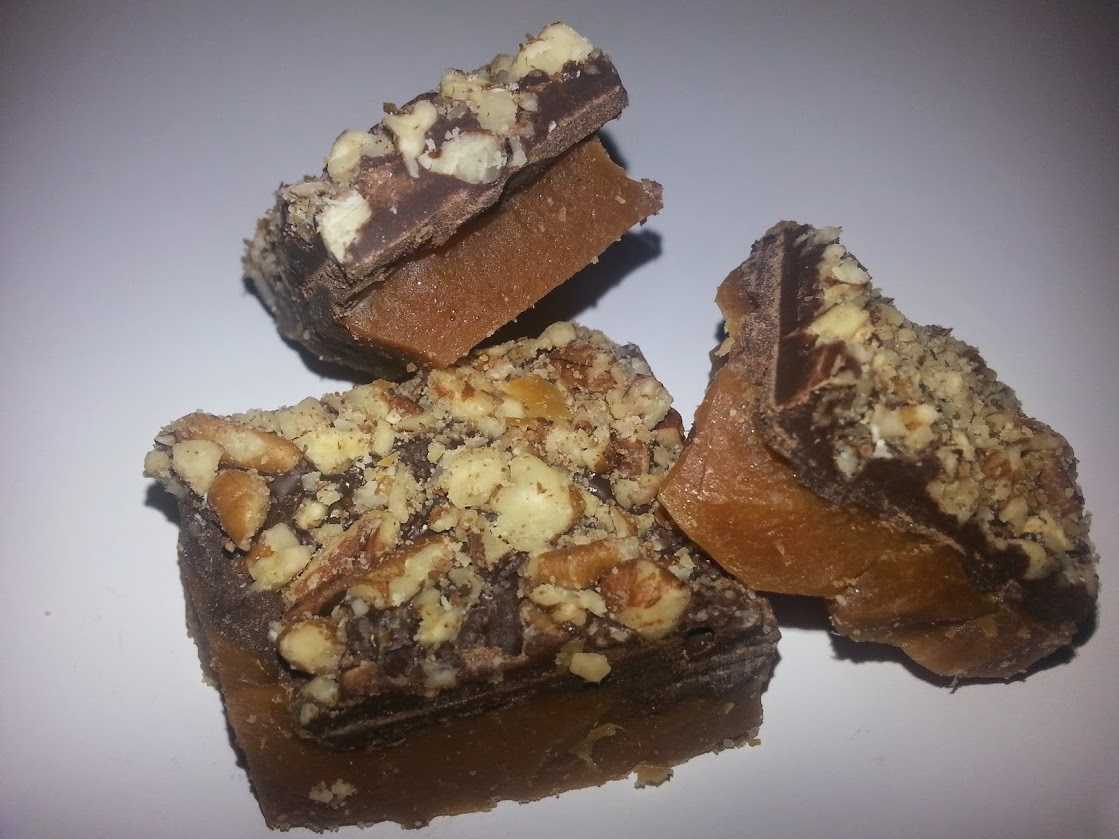 Ingredients
1 pound of butter
2 cups of white sugar
2 cups semi-sweet miniature chocolate chips
1/4 teaspoon of salt
2 cups of finely chopped pecans
Instructions
In a large heavy bottomed saucepan, combine the butter, sugar and salt. Cook over low to medium heat, stirring until the butter is melted. Allow to come to a boil, and cook until the mixture becomes a dark amber color, and the temperature has reached 285 degrees stirring occasionally.
While the toffee is cooking, cover a large baking sheet with parchment paper.
As soon as the toffee reaches the proper temperature, pour it out onto the parchment paper and spread until a uniform thickness covering as much of the cookie sheet as you can. Sprinkle the chocolate over the top, and let it set for a minute or two to soften. Spread the chocolate into a thin even layer once it is melted. Sprinkle the nuts over the chocolate, and press in slightly. Putting a plastic bag over your hand will minimize the mess.
Place the toffee in the refrigerator to chill until set. Break or cut into pieces, and store in an airtight container.
© 2023 Copyright Guy Food Guru