Jump to recipe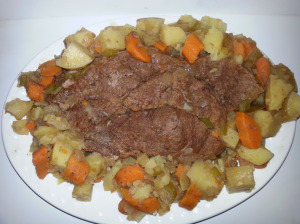 When I was growing up, it wasn't dinner unless meat and potatoes were being served. Now that I'm older I know that there's lots of other options but sometimes, when you're really seeking comfort food,  you just can't deny that there's any better comfort food than getting back to basics with pot roast.
This pot roast is very easy to make with a prep time of only about 20 minutes.  You can throw everything together in the morning, let it cook while you're at work, then be hit with the wonderful smell of home cooking as soon as you walk in the door after a long day away.
Let's get started.
The first step is to choose your cut of meat.   You want a good thick solid piece of Chuck Roast that's about 3 to 4lbs.  Look around and you can always find it on sale, the one that I chose was 3.35 lbs at $3.99 a pound.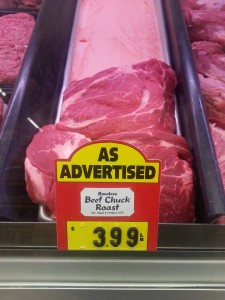 And here's a picture of all the other ingredients needed to make this.  Really can't get much easier than this.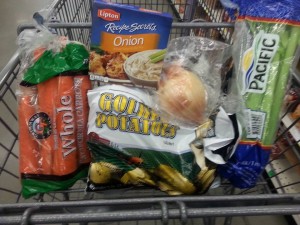 Our first step is to salt and pepper and brown the meat all over, including the sides in a skillet on high heat. This should take about 4 minutes for each side. We're going to seal in all the juices and this step will pay off big later.
Next we put the roast into the bottom of the slow cooker and cover with a packet of onion soup/dip mix and slowly add a cup of water.  If you pour the water around the sides, you'll be less likely to wash away the onion soup mix.
The next step is to add slices of carrots, chopped celery, and a chopped onion.
lastly I pat down everything that I've added so far and add potatoes until you reach the top of the slow cooker.  I've made this recipe before with a pre-determined number of potatoes but sizes vary so much it's just really hard to say how many you'll need.  And really when you get right down to it, is there ever too many potatoes in any recipe?  For this recipe I prefer any brand of golden/yellow potatoes.  They have a thin skin that you can leave on.  Whatever you do, don't forget to scrub the outsides of the potatoes.  One time I whipped up this recipe in record time and was pretty proud of myself.  It wasn't until later that I realized that I forgot to scrub the carrots and potatoes. The food tasted great if you didn't mind the gravel flavor added by missing this vital step.  You want to keep the size of the carrots and potatoes large enough that they don't fall apart when fully cooked.  I started with pieces of carrot and potatoes that were about 1″ each.
And that's it, you're done.   Cook on low for 8 to 10 hours, mine cooked for 9 hours.  When it's done,.use a large spoon to move all of the vegetables into a big bowl.  You can now carefully lift the roast out with the same serving spoon and put it on a serving plate, or break off pieces right in the slow cooker.  Serve with the vegetables and cover with a spoonful of the broth left on the bottom of the slow cooker.   You can feed a small army with all the meat and potatoes you're going to get out of this recipe.  What you're not seeing in this picture is the giant bowl off to the side with all the other potatoes, carrots, celery, and onions.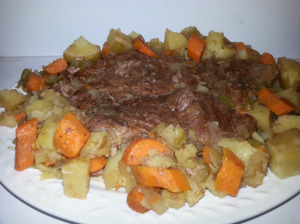 Easy Pot Roast Made in a Slow Cooker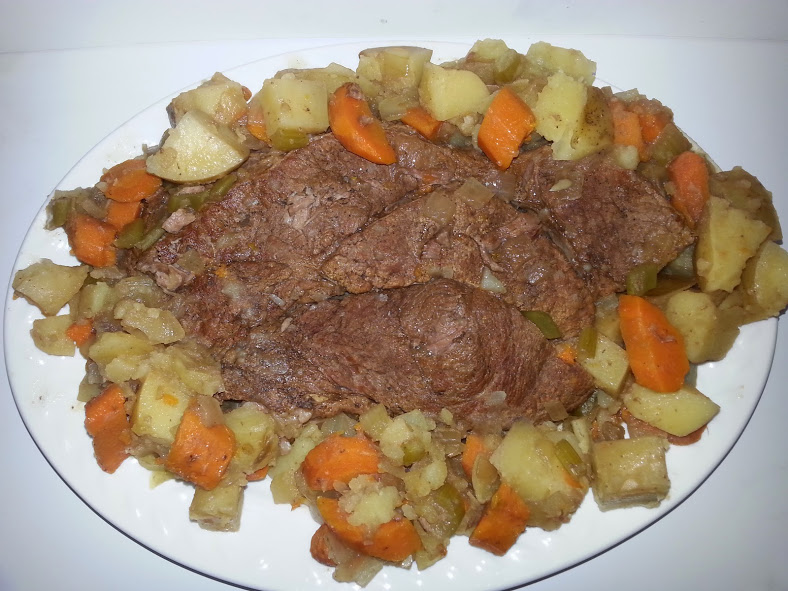 Ingredients
3-4 pounds chuck roast, chose one that looks solid and won't fall apart too easy while browning it and moving it from the skillet to the slow cooker.
salt and pepper to taste
1 packet dry onion soup mix
1 cup water
4-6 carrots, sliced
1 onion, chopped
9 golden yukon or similar potatoes. The amount you put is is based strictly on how many your slow cooker can hold 🙂 I buy a 5lb bag and fill to the top.
3 stalks celery, chopped
Instructions
Season the roast with salt and pepper to taste. Brown on all sides in a large skillet over high heat, about 4 minutes per side.
Place the roast in the slow cooker and add the soup mix, water, carrots, celery, onion, and potatoes.
Cover and cook on Low setting for 8 to 10 hours.
© 2023 Copyright Guy Food Guru