Jump to recipe
If ever there was a food that got no respect, it would be coleslaw.   Most people grab a little coleslaw just because it's there.  This recipe is for coleslaw that people will crave and it'll go to the front of the line for seconds and recipe requests.
Sweet Coleslaw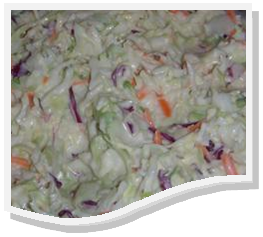 Ingredients
1 (16 ounce) bag coleslaw mix
2 tablespoons diced onion
2/3 cup Miracle Whip™ or other creamy salad dressing
3 tablespoons vegetable oil
1/2 cup white sugar
1 tablespoon white vinegar
1/4 teaspoon salt
1/2 teaspoon poppy seeds
Instructions
Combine the coleslaw mix and onion in a large bowl.
Whisk together the salad dressing, vegetable oil, sugar, vinegar, salt, and poppy seeds in a medium bowl; blend thoroughly. Pour dressing mixture over coleslaw mix and toss to coat.
Chill at least 2 hours before serving.
When you put this in the refrigerator don't worry if it looks dry. Once it's in there chilling the mix will breakdown as the juices are released. Sometimes, depending on the coleslaw mix I even have to spoon out some of the liquid because it looks like the coleslaw is drowning. Don't remove too much of the liquid though, that's some of the best part.
© 2022 Copyright Guy Food Guru