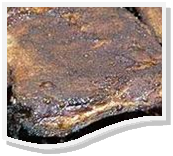 This is a great dry rub that can be used on pork roast, chops, and ribs.  I use this on any pork I'm going to smoke or grill. A bottle of this will last through the whole grilling season.
Ingredients
3/4 cup firmly packed dark brown sugar
3/4 cup white sugar
1/2 cup paprika
1/4 cup kosher salt
1/4 cup garlic powder
2 tablespoons ground black pepper
2 tablespoons ground ginger powder
2 tablespoons onion powder
2 teaspoons rosemary powder
Instructions
Mix the ingredients thoroughly in a bowl. Store the rub in a tight jar or spice shaking container (a used Season All container will work fine. This will keep for months. If it clumps just chop it up
For most meats, sprinkle just enough on to color it. Not too thick, about 2 tablespoons per side of a large slab of St. Louis Cut ribs. Before using the rub, lightly cover the meat with either mustard vegetable oil, either work great!
Massage the rub into the meat at least an hour before cooking.
http://guyfoodguru.com/2014/10/pork-dry-rub/