Jump to recipe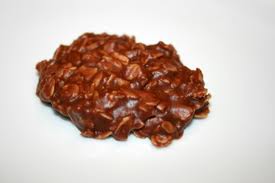 Real men don't bake. Or, maybe real men do. Either way, this time you won't have to with these no bake chocolate oatmeal cookies. And as an added bonus they're gluten free, so I'd call them healthy too.
I was first introduce to these cookies as a kid by my cousin Carol. She was my age at the time (okay, okay, just a little younger) so she probably made them under direction from her mother, either way, I'm claiming credit for them now. Thanks Carol!  🙂
With only 7 easy ingredients you really can't go wrong with these. Only word of caution I have while making these is to try to stay pretty close to the cooking times. Cooking these a bit too long and the cookies will seem dry. If you don't cook them long enough they may not hold together.  But come on, it's only a minute and a half, how hard can it be?  Success is less than 2 minutes away!
No Bake Chocolate Oatmeal Cookies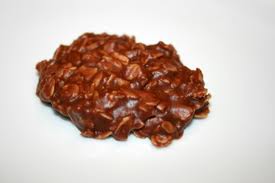 Ingredients
1 3/4 cup white sugar
1/2 cup milk
1/2 cup butter
4 tablespoons unsweetened cocoa powder
1/2 cup crunchy peanut butter
3 cups of quick or old fashioned oats
1 teaspoon vanilla extract
Instructions
Combine the sugar, milk, butter, and cocoa powder in a medium sized saucepan under medium heat.
Bring to a boil, turn the heat down slightly to keep from boiling over and allow to cook for one and a half minutes.
Take the pan off the heat and stir in the remaining ingredients.
Drop onto wax paper by the teaspoonful using another spoon to help get it off.
Allow to cool completely before moving them onto a serving plate, your lunchbox, or a Tupperware container. I love these sweet treats!
© 2023 Copyright Guy Food Guru