Jump to recipe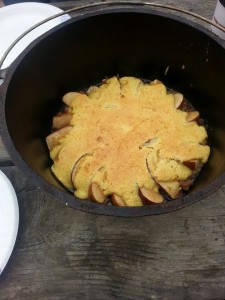 Camping..  who doesn't love camping?  Well if you're one of the few that doesn't continue reading and scroll to the bottom, I'll share a way to make this wonderful breakfast at home.
One of the very best things about camping is breakfast. If you're like me you've had everything for breakfast while camping from dry cereal, scrambled eggs and potatoes (can't go wrong with that) to the far extreme of considering finishing off a half filled beer that was left on the table and you really can't say for sure who's beer it was.
Been there, done that, don't ask. But we're better than that… and I'm gonna show you an easy breakfast that will have the neighbors poking around wondering what is smelling so good.  Seriously, that happens all the time.
On today's menu, Apple Sausage Dutch Oven Breakfast.  I'm not even sure what it's really called but I had to call it something, and there it is.  What is Apple Sausage Dutch Oven Breakfast you say?  Well envision cooked sausage broken up then covered with a layer of sliced apples.  On top of the apples we're going to spread some brown sugar and on top of that, we're going to bake some cornbread.  When it's all done we'll take out a slice or square add some butter and syrup and eat the one of heartiest breakfasts you'll ever have.
This is what finished Apple Sausage Dutch Oven Breakfast looks like before we take it out and serve it up.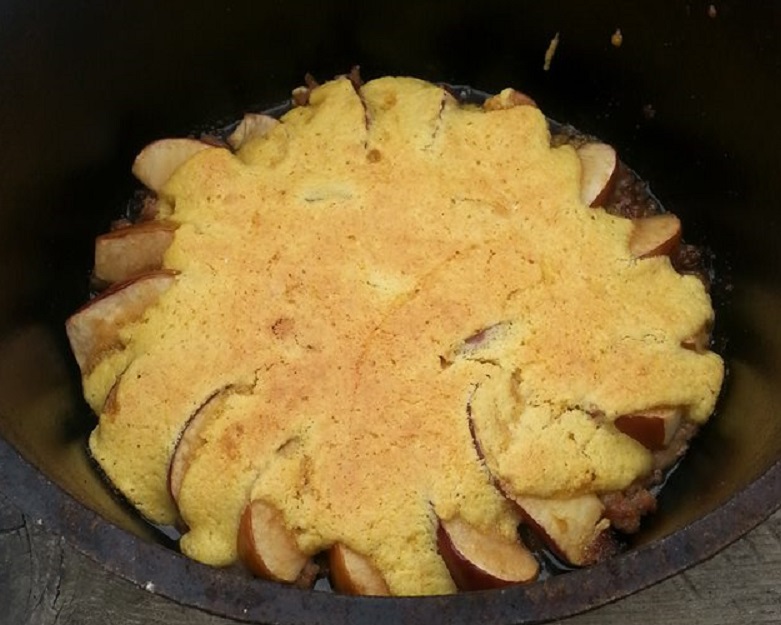 So, what do we need to make this?  Not much really but first I'm going to introduce you to your new best camp cooking tool, the dutch oven.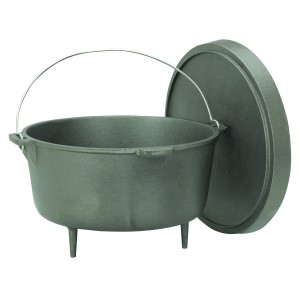 This one come from Harbor Freight for about $30 and of course you can always find it on sale or use one of their discount coupons to get it for even cheaper.
Before you can use your dutch oven it needs to be cleaned and seasoned.  They come from Harbor Freight with a protective thick wax coating that needs to be removed and then we'll start to build up layer after layer after layer of non-stick seasoning.  It's all a very easy process that I plan to give step by step directions to very soon with lots of pictures of course.  Cast iron cooking has been around for over a hundred years, and with good reason, it works.
For now, we'll assume you have a seasoned dutch oven or know how to season one and we'll get to making our Apple Sausage Dutch Oven Breakfast.
The first thing we're going to do is put our dutch over over a bed of charcoal.  You'll need about 24 briquettes and for now they can all be underneath.  We're going to cook up some sausage and slice up some apples.  I used a tube package of sausage I believe it was either sage or maple flavored.  Experimenting is perfectly okay.
When I made this, I was cooking for only two people so I only used one pound of sausage, two apples, and one box of cornbread mix.  Even still we had plenty of leftovers for the next day. The recipe below is for larger group.
After the sausage is thoroughly cooked, drain off the excess grease and begin to add a layer of sliced apples to the bottom of the dutch oven.  To make things easier I removed the dutch oven from the heat and was working on the wooden campground picnic table.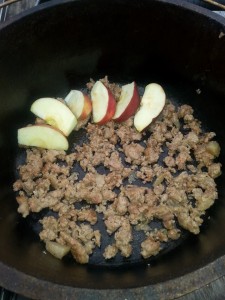 After we have all the apples layered on the sausage we're going to spread some brown sugar over the apples.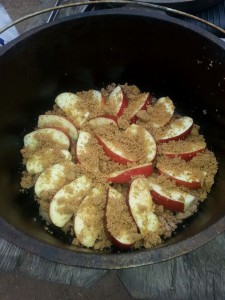 Our next step is to mix a box or two depending on how many mouths your feeding of Jiffy cornbread mix according to the directions and spread it over the brown sugar, apples and sausage as you can see here.  Don't be too concerned if it doesn't go to the edges of the oven.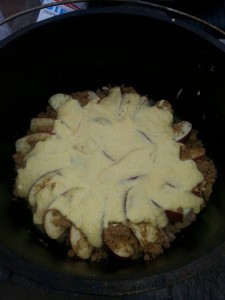 Using long tongs arrange about 8 of the charcoal briquettes into a circle that's roughly the same size as your dutch oven.  Place the dutch oven over those coals moving it around until it settles fairly level.  Put the lid on the oven and then add about 16 coals to the lid around the rim as shown below.  You can see that I wasn't very good at counting and I've got much more than 16 coals but that's okay too.  Now the fun part, kick back, make some coffee, go for a walk, take a shower, or go back to bed for awhile.  The cooking/baking process takes about 45-55 minutes depending on how many coals you put on top, your elevation, etc, etc.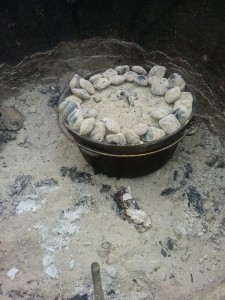 The best rule of thumb I ever heard for judging doneness with a dutch oven is to let it cook until you can smell it, then wait about 10 more minutes.  It sounds crazy but sure enough after about 30-35 minutes you'll start smelling the cornbread.  Wait about ten more minutes and you'll have one of the best breakfasts that you've ever had.
That looks so delicious, let's take another look at the finished masterpiece.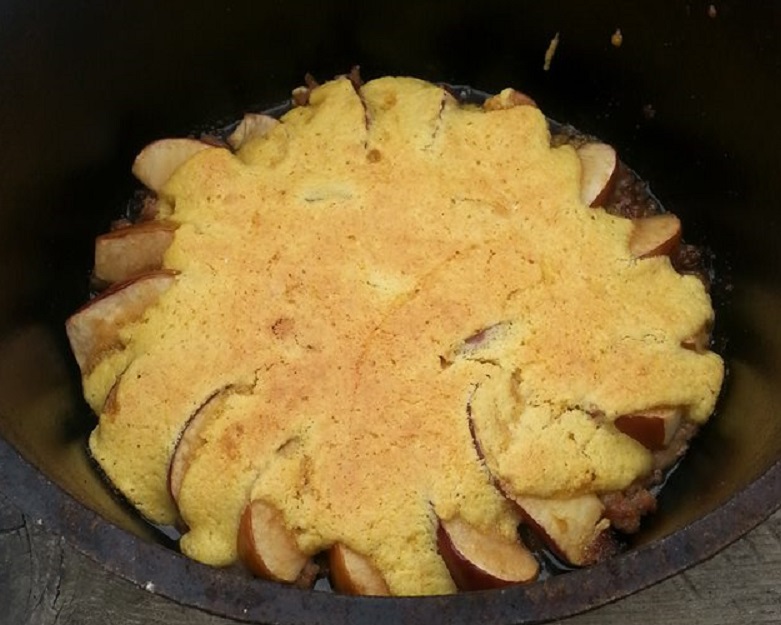 The apples will be soft and sweet, the sausage and cornbread will add heartiness to this and you're taste buds are going to go into overdrive.
So you have a dutch oven at home but it doesn't have legs or maybe you don't have a lid for it?  No problem.  Follow these same instructions, cover your home dutch oven, and put into your home oven pre-heated to 350 and cook just like above.
So here's the full recipe which you can cut back like I did on the amount of sausage, apples, and cornbread based on how many mouths you're planning on feeding.  Don't be surprised if you end up having strangers turned into friends come over to see what you've made and share in it's goodness.
Apple Sausage Dutch Oven Breakfast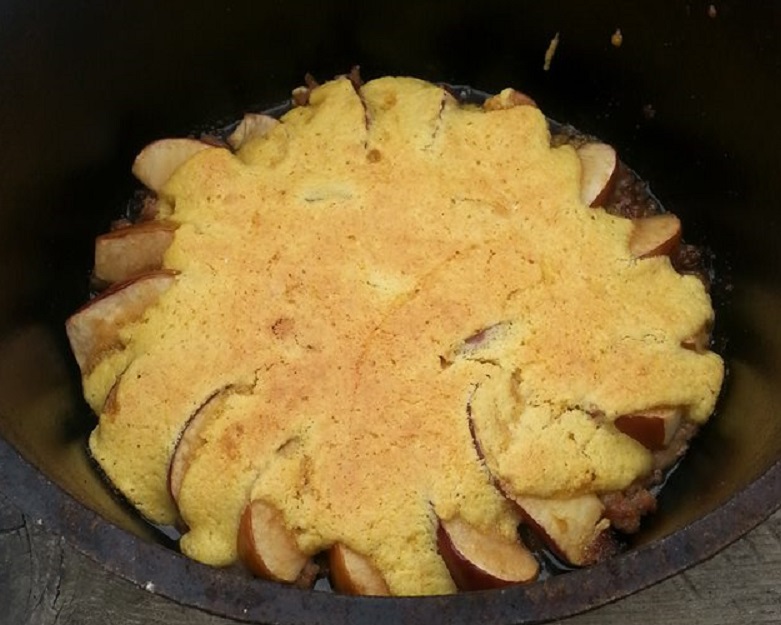 Ingredients
2 lbs of your favorite flavor pork sausage
Three large apples- any eating kind will work just fine
Two packages Corn Bread Mix (and whatever is needed to make them per box instructions)
1/2 cup of brown sugar
Butter
Syrup
Instructions
Put the pork in the bottom of the Dutch oven. Brown and drain off the excess fat/grease.
Core and slice the apples into 3/8-1/2 inch thick slices and layer them on top of the pork.
Sprinkle the brown sugar on top of the apples. Mix the cornbread mix per instructions. Pour the mix on top of the apples.
Cover and cook for about 45-55 minutes. Remember the smell plus ten rule of Dutch oven cooking. You can really tell that it's done when the cornbread looks golden brown and delicious and springs back when you touch it.
Slice or scoop out a portion onto a plate, add some butter and syrup like you would a pancake and enjoy!
© 2022 Copyright Guy Food Guru